The New Mother's Workout is non-impact and has a meditative quality that allows access to your deepest, interior muscles. By strengthening the core (deep abdominal) muscles we provide a foundation for the entire structure to be supported, aligned and lengthened. You will be provided with a book of exercises for you do do at home. Included will be exercises for any special problems you might have. Also a completely illustrated guide to baby massage. During your 10 sessions you will learn to do these exercises correctly and in an aligned way so that you can continue doing them until your body is completely restored.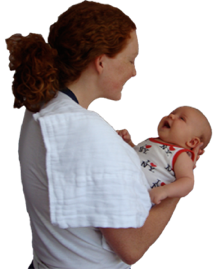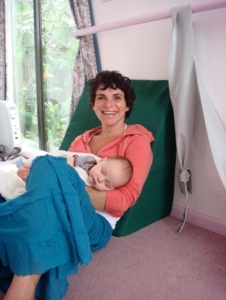 This is Zahava, the babysitter. The babies love her.
The classes are small, no more then 6 students so that each mother can get the personal attention she needs. In addition there is a fabulous baby-sitter watching the babies so the mothers can concentrate on working out. After this we dance with the babies (which they love) and do baby massage. These two activities help the babies to discover their bodies and are great fun for them.
Karen has studied prenatal and postpartum exercise with Elizabeth Noble, a leading author, instructor, and childbirth authority. This class will help you to restore the changes brought about by your pregnancy so that you will be able to enjoy your exciting new life.
The New Mother's Workout is especially designed to strengthen, align and integrate your body after childbirth. We concentrate mainly but not exclusively on the abdominal and pelvic floor muscles which are completely stretched out during your pregnancy. You will feel the balance, grace and energy of a more integrated, strengthened body. Just one class each week will provide significant results, although twice a week will be quicker. After a 10 session course, your abdominal muscles will be able to provide the support and strength your body needs to keep your back in line and keep up with the demands of your wonderful new life.