Private Sessions in Berkeley, CA, from Karen Casino
Karen Casino has a variety of classes, but she also offers private sessions in Berkeley, CA. Below is client testimony about Karen and her massage practice. Take a look and contact Body Work By Karen Casino to book an appointment.
"I began private sessions with Karen when my twins were fifteen months old. My only regret is that I didn't see her sooner.
After three pregnancies and a year of little exercise or sleep, I felt like a stranger in my own body. Karen quickly assessed that I had a diastasis caused by my twin pregnancy and an unhappy pelvis (excuse my lack of medical language.) At the time of this review, I have had five private sessions with Karen and have five more scheduled. I can't believe how much better I feel already."
"Karen is a wonderful teacher who customizes her knowledge of Pilates and anatomy for each student. She is very clear and gives specific exercise assignments to follow at home, which are doable and simple to fit into a busy schedule. Her gentle demeanor is assuring and positive. I highly recommend private sessions with Karen."
"I strongly recommend Karen Casino for her skill and care as a one-on-one Pilates instructor and as a body worker.
I am a 68 year old woman living in Berkeley, California. I was referred to Karen by a friend during my recovery from a fall six months ago from a ten foot ladder when I broke both heels. By the time I began working with Karen I had graduated from my to months in a wheelchair and a month plus on crutches. I was learning to walk again and finding that I was quite wobbly and had various new discomforts in my feet, ankles, knees and back.
I have now had four sessions tailored to my particular needs, each of which has been extremely helpful. I have made notable progress in my walking and in my comfort and fluidity of movement, walking, sitting and lying down.
Each time I go to Karen, we work together on a number of exercises which are preparing for strengthening my very weak core. Other related exercises involve opening up my tight back and shoulders, issues which date back to my teens. We work on the floor, on a roller and sitting up. Each time Karen assesses my walking and also the comparative length of my two legs. We review the exercises she has assigned me (with sheets for home use), and add new exercises as I progress. In the last 15- 20 minutes of our time together, she does body work which is also extremely helpful.
I really look forward to that unique addition to the session, Karen is patient with my stiffness, and difficulty with learning new exercises. She has a sense of humor and is kind and experimental in breaking down the challenges so I can progress in my own way. I am very grateful to her for her work with me and look forward with enthusiasm to my weekly appointments. If I could, I would work with her every day!!!"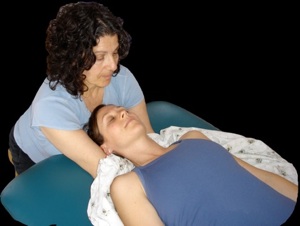 Private Exercise Classes in Berkeley, CA, to Rejuvenate Your Body
Your body is capable of amazing things. From carrying you throughout your day to creating new life, it's easy to take for granted just how much your body can do. However, pregnancy and aging can take a serious toll on you. When you need to rejuvenate yourself and reclaim your body, turn to Body Work By Karen Casino.
Karen offers private exercise classes in Berkeley, CA, tailored to the unique needs of changing bodies. As a certified massage therapy, a reflexologist, and a registered Ortho-Bionomy practitioner, she is highly qualified to tailor an exercise plan to address your specific concerns. Reach out to Karen Casino today and take the first step to healing your body and feeling better.
Specialty Fitness to Meet Your Goals
No two workouts are exactly the same, which is why Karen Casino offers several different types of fitness services to meet your needs. Her specialties include:
Diastasis Workout: Diastasis occurs when your abdominal muscles separate. It typically occurs during the final weeks of pregnancy. Karen offers diastasis services to safely firm up your abdominals again.
New Mother's Workout: Getting your body back to normal after a pregnancy can be a challenge. Karen helps you get on the path to recovery so you can be in top form as you raise your newborn.
Pregnancy Workout: You don't have to stop working out during pregnancy, although you do have to be more careful. Karen designs a fitness program for you so you can enjoy a healthy pregnancy and quick recovery.
Tri-Level Workout: Tri-Level Fitness was designed to meet the unique needs of rehabilitating dancers. Karen offers private exercise classes on Tri-Level Fitness for anyone who wants to increase their strength, grace, and balance.
Work One-on-One with a Workout Expert
Exercising in a group can be embarrassing, especially if you aren't feeling confident in your body. Furthermore, you can't always get the focused instruction you need to get the most out of your workout when the instructor is trying to meet the needs of many. Karen Casino's private exercise classes are the answer to both of these problems.
You get to work one-on-one with Karen, discussing all of your concerns and goals in depth. She supervises your exercise, correcting your form as needed and giving pointers to make your workout more productive and healing. Her goal is to ensure that you feel good after exercising and that you know how to complete the forms successfully on your own at home too.
Contact Karen Casino if you have any questions about her exercise classes and private lessons. She proudly services people from throughout Berkeley, California, and the surrounding areas.